February 14, 2013 – Pretoria
In the early morning of Thursday, 14 February 2013, Pistorius' girlfriend Reeva Steenkamp was shot and killed at Pistorius' Pretoria home.Pistorius was taken into police custody and was formally charged with Steenkamp's murder in a Pretoria court on 15 February.
The bail hearing commenced on 19 February under Chief Magistrate of Pretoria Desmond Nair.
During the hearing, both prosecution and defence said that Pistorius had fired four shots through a locked bathroom door, hitting Steenkamp three times inside the bathroom.
Prosecutor Gerrie Nel claimed that Pistorius had put on his prosthetic legs, walked across his bedroom to the bathroom, and intentionally shot Steenkamp through the door.Nel argued that the time required for this process was sufficient to establish the murder as "premeditated." Pistorius said that he had thought Steenkamp was in the bed, and that the person in the bathroom was an intruder. He also said he had not put on his prosthetics before shooting into the bathroom.
Chief investigating officer Hilton Botha said at the bail hearing that a witness had heard sounds of fighting from Pistorius' home before shots were fired; he initially said the witness was 600 metres away, but later said the distance was 300 metres.
Botha also said the trajectory of the gunshots indicated that they had been fired downward and directly toward the toilet.
He acknowledged that procedural mistakes had been made during the crime scene investigation, and that police had found no evidence that directly contradicted the version of events offered by either the defense or the prosecution.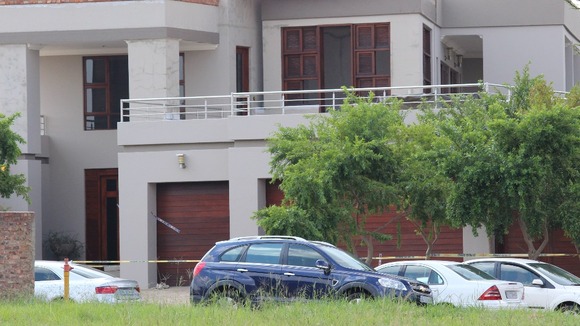 On 22 February, Botha was removed from the case following revelations that he was facing attempted murder charges stemming from a 2009 incident. Botha was replaced by Vineshkumar Moonoo, described as "the most senior detective" in the South African Police Service.
On 22 February, at the conclusion of the four-day bail hearing, Magistrate Nair confirmed that Pistorius would be charged with premeditated murder, but said that the state had not convinced him that Pistorius posed a flight risk, and fixed bail at R1 million ($113,000). On 4 June the trial of Pistorius was postponed to 19 August 2013 to allow time for further investigation.[Wiki